The Rinks offer a number of daily freestyle skating sessions for figure skaters. These are special sessions provided for the practice of jumps, spins, turns, steps, moves in the field, etc. Skaters are allowed to share the sound system in order to practice their routines to music. Skaters are provided with full ice usage and no cones are allowed on Freestyle sessions.
All Freestyle sessions, regardless of level, are strictly for figure skating practice and figure skating lessons unless otherwise noted (e.g. Skating Skills)
Learn to Skate practice passes are

 

not

 

valid on any type of Freestyle Session
View Schedule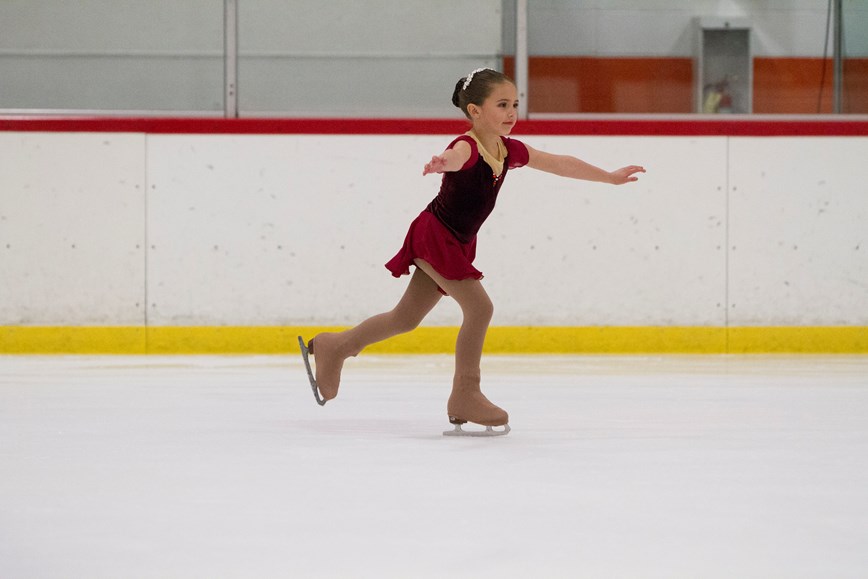 Return To Play
Please review our Return to Play protocols before registering for Learn to Skate, Freestyle, or other Figure Skating camps. 
Failure to comply with these guidelines will result in loss of skating & coaching privileges
Current Pricing
Basic Package (10) - $125
$12.50 per session
Bronze Package (25) - $306.25
$12.25 per session
Silver Package (50) - $600
$12 per session
Gold Package (75) - $881.25
$11.75 per session 
New Pricing - Effective January 1, 2022
Basic Package (10) - $135
$13.50 per session
Bronze Package (25) - $331.25
$13.25 per session
Silver Package (50) - $650
$13 per session
Gold Package (75) - $956.25
$12.75 per session 
Purchase Freestyle Packages
Yorba Linda ICE Freestyle Packages can be redeemed at The Rinks - Anaheim ICE, Lakewood ICE, Poway ICE, and Westminster ICE. They can not be redeemed at Great Park Ice, as their pricing is different.
Level Requirements
Freestyle Camps - General
Unless otherwise specified, ALL Freestyle Camps are "Learn to Skate USA Basic 4" level and higher. Singles Free Skating, Pairs or Dance only. 
Skaters below Basic 4 may skate on "Regular" or "Basic 4+" sessions

 

in lesson only with prior approval

 

from Skating Manager/Lead but are

 

not

 

allowed to practice on their own for safety reasons.

Please use an Open Freestyle Camp or Skating Skills Camp for practice time (see below)
Private lesson instructor strongly encouraged to promote safety and Freestyle Session etiquette

No rental skates or hockey skates allowed
Leveled Freestyle Camp - By Test
Freestyle Camps with test restrictions are for figure skaters that have passed the equivalent USFS Free Skating Test -or- are currently competing at that level.
For example, "Freestyle - Juvenile & Up" is open only to skaters that have passed the USFS Juvenile Free Skating test

 

-or-

 

are currently competing at the Juvenile level 
Open Freestyle Camp - All Levels
Open Freestyle Camps are open to any level of figure skater
Hockey players may skate on these sessions during a lesson only and

 

with prior approval

 

from Skating Manager/Lead
Rental skates are permitted
Guest Coach Protocol
Contact Skating School Lead, sjude, for approval at least 24 hours in advance
Submit proof of:

Coach Compliance (successfully passed background screen and completion of SafeSport Training)
Verification of current coach liability insurance

Certificate holder must list:

Ice Management, LLC




2101 E. Coast Hwy, Suite 300




Corona del Mar, CA 92625




Attn: Zareen Morrison

Pay $35 daily guest coaching fee before taking the ice on the day you are teaching or $130 The Rinks - Weekly Guest Coaching Fee* on Monday

Go into your Customer Account through Dash

Scroll down to "Memberships"

Click "Add Membership"

"Guest Skating Coach (Yorba Linda) - Add to Cart

Checkout

*The Rinks - Weekly Guest Coaching Fee Details:

The Figure Skating Department's Weekly Guest Coaching Fee of $130 per week will cover from Monday to Sunday, regardless of the date and time of purchase

This weekly fee should be paid on Mondays and paid before you begin teaching for the week 

This fee will be good for all The Rinks locations but NOT Great Park Ice

All Guest Coaches must be pre-approved by the Skating Manager/Lead of appropriate facility to register for sessions and pay for pro fees

If they are not able to process the payment, it is likely that they do NOT have the appropriate "membership key" required and should contact the Skating Manager/Lead for approval

Please note that this is an INTERIM weekly payment option during the current pandemic and is subject to change or cease at any time
More Information
For more information, contact:
Yorba Linda ICE Program Office
714.692.8776 ext. 10
ylprogramoffice@therinks.com
Yorba Linda ICE Skating Manager – Shari Jude
sjude@therinks.com
The Rinks Figure Skating Director – Alex Chang
achang@therinks.com